Live-In Aides
Your Care, Your Schedule - Please Call: 203-466-3050
Utopia Home Care live-in aide services are flexible, to meet the needs of each client's specific situation and provide comprehensive care that has no schedule but yours.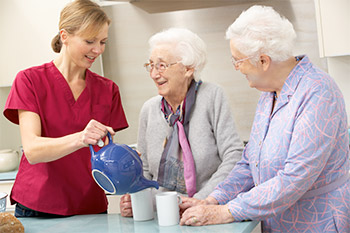 Care Plan Design – A Utopia representative will meet with you and your family to review services, payer options, and identify desired traits in one of our licensed and bonded caregivers.
Continuity of Care – Aides remain in the client's home 24 hours a day, providing assistance when needed.
Cost Effective – Live-in aide services are a cost-effective alternative to institutionalized care.
Guaranteed Coverage – Transportation is provided to and from cases.
TYPICAL LIVE-IN AIDE TASKS INCLUDE:
Bathing

– Shower, bed bath, tub bath, partial/sponge bath
Grooming

- Mouth care, hair care, combing and washing
Dressing

- Morning and evening clothing preparation
Household Needs

– Grocery shopping, organization, and seasonal chores
Cleaning

– Dusting, vacuuming, and laundry
Meal Preparation

– Prepare food for that day, or for the whole week
Accompaniment

– To appointments, social events, and gatherings
Community – Errands, shopping, and trips
Outpatient Surgical Procedures

– Post-procedure assistance and monitoring
Social Engagement

– Conversation, crafts, game playing, and reading
As with all of our staff, live-ins are bonded, insured, and undergo a rigorous screening process and criminal background check prior to be placed within a client's home. Services and care plans are monitored routinely by our dedicated management staff to ensure client safety and well being.
For more information and to speak with a local client services representative, please call: 203-466-3050
You are also welcome to complete a Get Started form today: